Kerala Pilgrimage
Kerala is home to some of the major pilgrimage centers in South India. Kerala is a state where all the religions gives respect to each other and take part in each others celebrations and pilgrimage. Each religion in Kerala has their own pilgrimage centers and these pilgrimage destinations in Kerala get due respect from other religions.

Some of the major Pilgrimage centers in Kerala are Sabarimala Temple, Malayatoor Church, Cheraman Juma Masjid, Guruvayoor Temple, Chakkulathukavu Temple, Aranmula Temple, Parumala Church, Kanjiramattom Mosque, Manarcaud Church and more.
Sabarimala Temple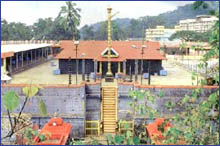 It is one of the most important pilgrimage center of Hindus in Kerala. It is home to one of the largest gatherings of devotees in South India.This holy shrine, dedicated to Lord Ayyappa is a renowned pilgrim centre and is at 914 m above sea level in the wilderness of the Western Ghats. The shrine is situated in a remote area in Pathanamthitta District and is about 70 kms away from the district areaThe main pilgrimage is undertaken between the month of November and January. Regardless of caste, creed, colour, they wear black dhotis and carry on their heads, bundles containing traditional offerings like coconut filled with ghee, camphor and rice. The festival of Sabarimala Temple is celebrated in honour of Lord Ayyapan. There are two main pujas called the Mandal Puja and the Makara Sankranti Puja, which are celebrated from November to Middle of January in Keralas. The most important day of the Sabarimala Pilgrimage is the Makara Vilakku Day which comes around January 14th every year.